Queen Elizabeth II's cause of death is listed as "old age", in the register of deaths published on Thursday.
Paul Lowe, the registrar general for Scotland, verified that the Queen's death was reported on September 16 in Aberdeenshire.
According to the record, the 96-year-old queen passed away on September 8 at 3:10 p.m. at Balmoral Castle in Ballater. Princess Anne registered her mother's death.
Douglas James Allan Glass is noted as the certifying registered medical practitioner. There were no additional causes of death given, only old age. The doctor who certified the death at Balmoral in Aberdeenshire was Douglas Glass, whom Buckingham Palace says was an "apothecary to the Queen".
According to the records, the Queen passed away just over three hours before Buckingham Palace released a statement at 6.30 p.m. announcing the news.
Old age is admissible if the physician who certified the patient's death had provided long-term care, was unaware of any illness or injury that may have led to the patient's demise, and had noticed a steady deterioration in the patient's overall health and functional state.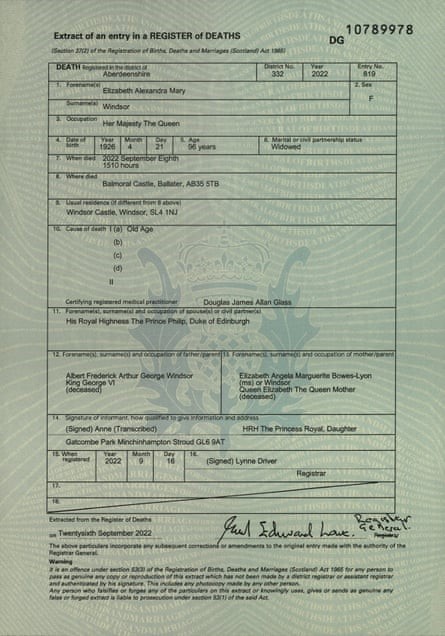 During her later years, the Queen had intermittent mobility issues and frequently used a walking stick in public. She started using a walking stick after being hospitalized in a private London hospital in October of last year for "preliminary investigations" — her first overnight stay in eight years.
Global leaders recognised the contribution the Queen had given to the world over her 70-year reign, and on September 19, the world said goodbye to the monarch with a state funeral drenched in the spectacle.
Presidents, prime ministers, members of the royal family, and dignitaries gathered at Westminster Abbey for a solemn service as tens of thousands of people flocked to the nearby streets and the 25-mile route of the procession from central London to Windsor in an effort to see the sovereign's flag-draped coffin as it traveled by hearse to her final resting place.