Dr. Amir Raza is a Pakistani surgeon who graduated from Nishtar Hospital Multan and hails from village Babi in Taunsa. He is trained as a laparoscopic surgeon and treated a woman at London's Chelsea and Westminster Hospital by using robotic surgery. Robots completed 12 significant tasks in a single day, breaking the previous record.
By using robotic surgery to cure a patient, Dr. Amir Raza paved the way for the treatment of millions of women with endometriosis, a condition that affects fertility.
The most cutting-edge approach to abdominal surgery is called robotic surgery. In this procedure, the doctor controls the instruments from a distance while performing the procedure by creating a hole in the patient's abdomen.
Dr. Raza is a well-known endometriosis expert, a condition in which women experience pelvic and menstrual discomfort that seriously impairs their ability to conceive. The illness also has an impact on the intestines, bladder, and nerves in addition to the pelvic organs. Tens of millions of women worldwide struggle with this ailment, which affects them from early adulthood through old age.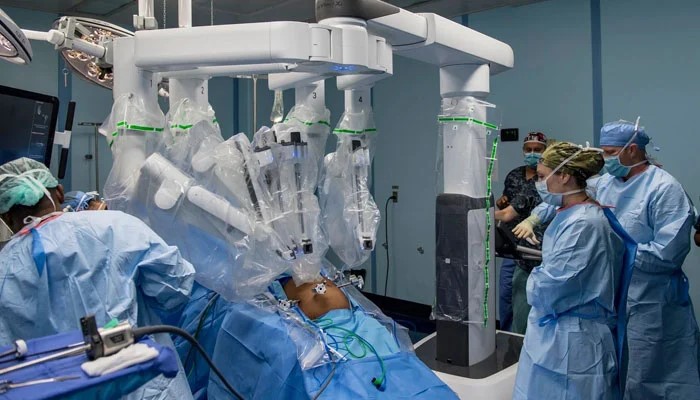 Today, Raza is regarded as one of the top surgeons in the world for complex pelvic diseases and endometriosis. He also oversees a large group of multi-specialty surgeons as the director of the renowned International Centre of Endometriosis at Cromwell Hospital in London. In addition, Raza is the founder and director of the CCMIG Chelsea Centre for Minimal Access Surgery, which runs laparoscopic courses on a national and international scale all over the world. He travels to give laparoscopic gynecology courses in the Middle East, Pakistan, Africa, and Europe.
Speaking to news channels, Dr. Amer Raza said: "Since Covid, our National Health Service (NHS) has been under huge pressure of long waiting times. We have pioneered the most efficient strategic planning to do the most number of operations with the help of robotics in two days. Robotics technology allows a doctor to complete the operation in a shorter time with more safety and accuracy than a conventional approach. I am very excited that we have achieved this landmark and that our efforts will help women of all age groups.''
"Robotic surgery is now attracting the attention of clinicians and patients alike due to its benefits. The technique will be adopted in hospitals across the world and many robotic systems are being introduced in the health sector. Endometriosis causes debilitating symptoms including chronic pelvic pain, fatigue, and fertility problems. Surgery can help to provide pain relief."
Dr. Raza said that he and his team developed a care model that scheduled preoperative work, robotic surgery, and postoperative discharge. With robotic surgery, the team can complete the procedure more quickly than with a traditional laparoscopic approach. This allows them to perform more surgeries each day.
"The new technique also causes less blood loss and the recovery period is significantly faster. We were assisted by a team of 20 staff members who worked very efficiently to enable us to do this," said the British Pakistani doctor.
Dr. Amer Raza said he owes a lot to Pakistan and will be working with doctors and hospitals in Pakistan to introduce robotic technology to help women. "I look forward to working with doctors in Pakistan. Britain has thousands of doctors from Pakistan who are doing great work in the NHS. I am glad that the British press has highlighted my contribution which is a credit to Pakistan," he said.
According to statistics from the NHS, there are presently 500,000 women in the UK on a waiting list for gynaecology care, and more than 5,000 of them have been on it for longer than 18 months. The NHS has a large backlog of patients, and the only way to handle it is through structure, strategic planning, and advanced robotic surgery.