In the realm of fashion, some combinations never lose their charm. The timeless duo of black and white continues to reign as a classic monochrome style statement. GulAhmed, renowned for its exquisite designs and quality fabrics, has unveiled its latest collection, Blanche Noire. This collection features an array of 2-piece and 3-piece black and white lawn suits, offering a perfect blend of monochrome fashion and summer comfort. Let's dive into the captivating designs that make this collection a must-have for every fashion enthusiast.
https://www.gulahmedshop.com/3pc-unstitched-printed-lawn-suit-b-32038
The first design from the Blanche Noire collection is an enchanting 3-piece unstitched suit adorned with intricate black and white prints. The shirt boasts an alluring blend of geometric and floral patterns, creating a harmonious balance. Paired with matching printed dupatta and black trousers, this ensemble embodies elegance and sophistication. Crafted from high-quality lawn fabric, it promises a cool and breathable experience during the scorching summer months.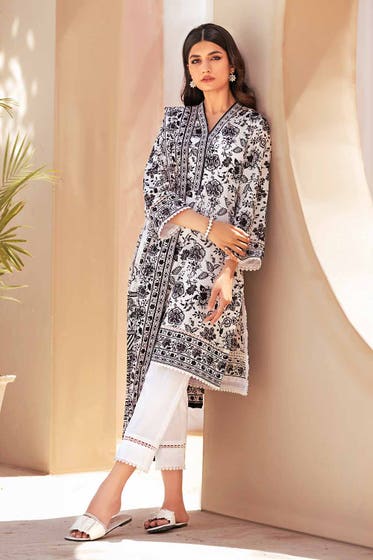 For those seeking simplicity with a touch of grace, this 2-piece printed lawn suit is a perfect choice. The white shirt showcases delicate black motifs, exuding an understated charm. Its versatile design allows you to style it according to your preferences, making it a wardrobe staple for multiple occasions. Combine it with black or white trousers, accessorize with statement jewelry, and you're ready to make a lasting impression.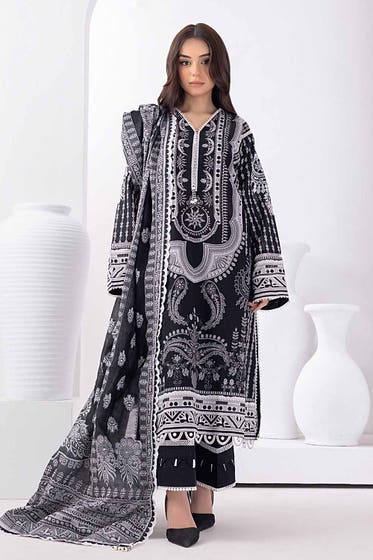 If you desire a blend of sophistication and opulence, this 3-piece embroidered lawn suit with a jacquard dupatta will captivate your heart. The black shirt features intricate white embroidery, beautifully adorning the neckline and borders. Complemented by a matching jacquard dupatta and black trousers, this ensemble exudes sheer elegance. The fine craftsmanship and attention to detail make it an ideal choice for formal events and social gatherings.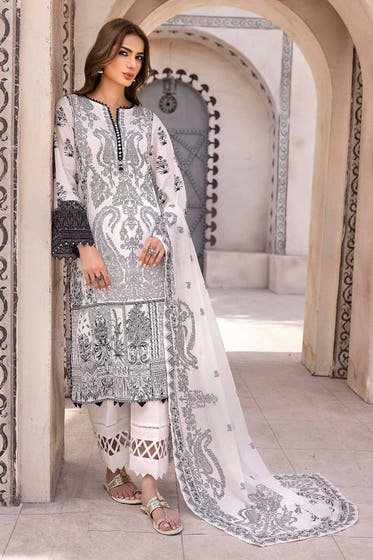 GulAhmed's Blanche Noire collection also offers this 3-piece unstitched suit featuring an embroidered lawn shirt with an organza neckline. The delicate white embroidery adds a touch of femininity and allure. The white trousers and a printed lawn dupatta complete the ensemble, showcasing a perfect balance of simplicity and sophistication. This design effortlessly combines tradition with contemporary fashion sensibilities.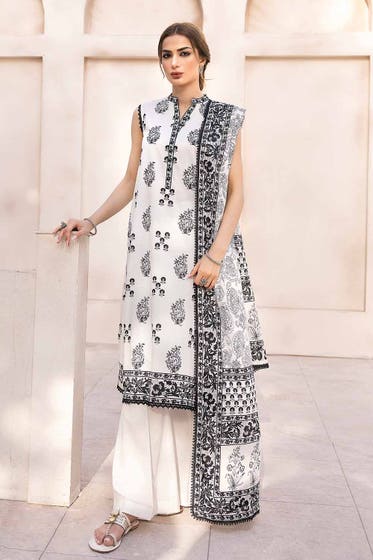 Last but not least, this 3-piece unstitched printed lawn suit from the black and white collection presents a mesmerizing blend of black and white patterns. The shirt displays an amalgamation of floral and geometric motifs, creating a captivating visual appeal. Pair it with black or white trousers, and you'll have a chic ensemble perfect for casual outings and gatherings.
GulAhmed's Blanche Noire collection celebrates the everlasting allure of the black and white color combination, offering an extensive range of designs in timeless monochrome fashion. These summer lawn suits not only exude elegance but also provide comfort in the sweltering heat. Whether you opt for the intricate embroidery or the delicate prints, each design promises to make a statement. Embrace the beauty of Blanche Noire and create your own classic style statement with GulAhmed's latest collection.