Pakistan is pleading for rapid international aid after more than 1,000 people, including more than 300 children, were killed by flash floods. Nearly a million homes were damaged, along with animals, crops, roads, and bridges, leaving millions without access to homes, food, energy, and the internet. According to the National Disaster Management Authority, 119 more people perished in Pakistan's catastrophic floods during the past 24 hours, bringing the total number of fatalities since mid-June to 1,033. (NDMA). Over $4 billion has already been projected as the cost of the economic losses.
The international community has stepped forward to aid the victims as Pakistan continues to be devastated by the disastrous flash flooding and lose lives in the process.
UAE President issues a relief order
His Highness Sheikh Mohamed bin Zayed Al Nahyan, President of the UAE, ordered the prompt delivery of 3,000 tonnes of food supplies, tonnes of medical supplies, and tonnes of tents and shelter supplies on Saturday. The UAE aid teams will also help Pakistani institutions to meet their logistical, medical, and food needs. To ensure that thousands of families have access to necessities like food and shelter, the Emirates Red Crescent (ERC) has also offered help.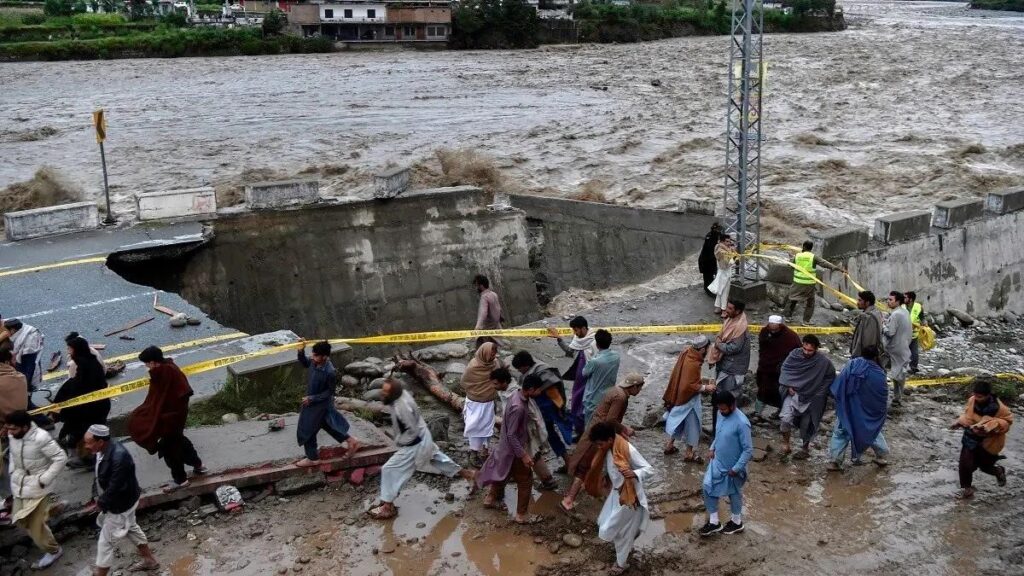 UK declares £1.5 million
The UK has said that it will urgently contribute up to 1.5 million pounds in humanitarian aid to the flood-affected districts.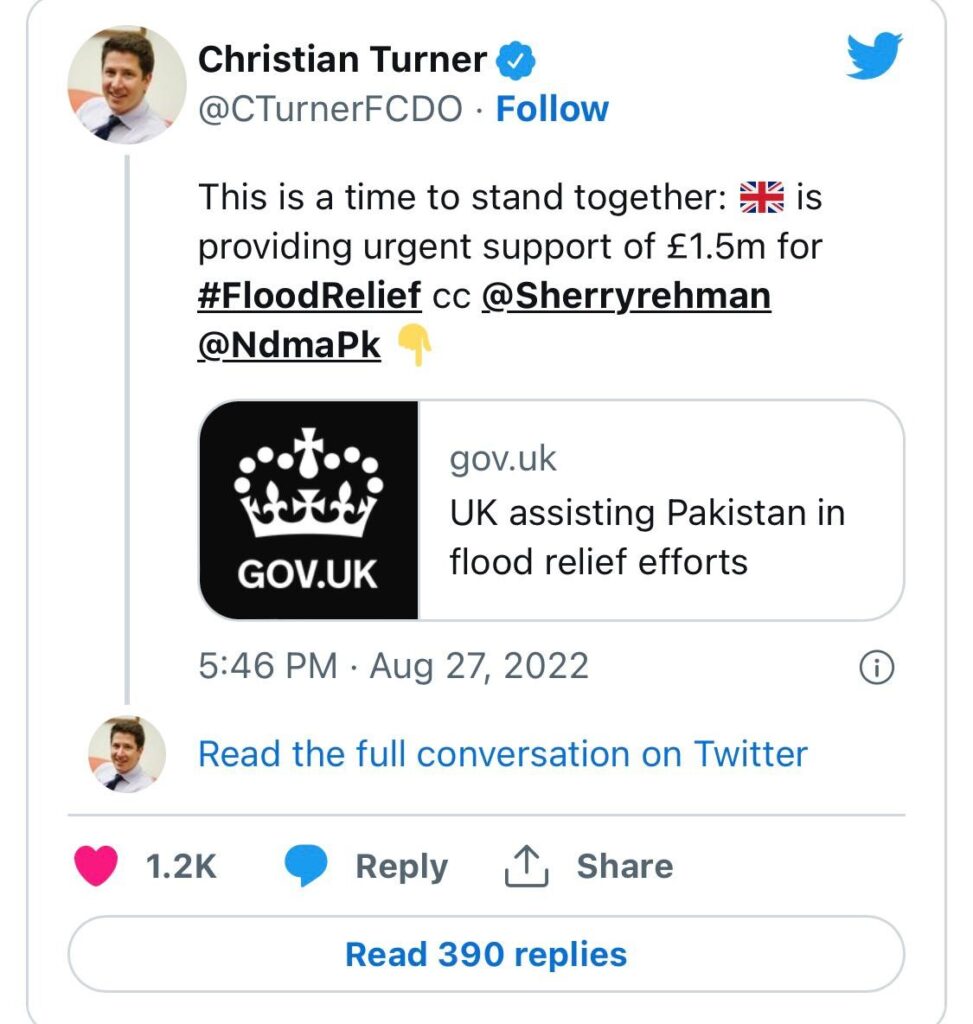 UN allocates $3 million
UN agencies and partners in Pakistan have been given $3 million by the UN Central Emergency Response Fund (CERF) to deal with the floods. In flood-affected communities, this assistance will be used for health, nutrition, food security, and water and sanitation services.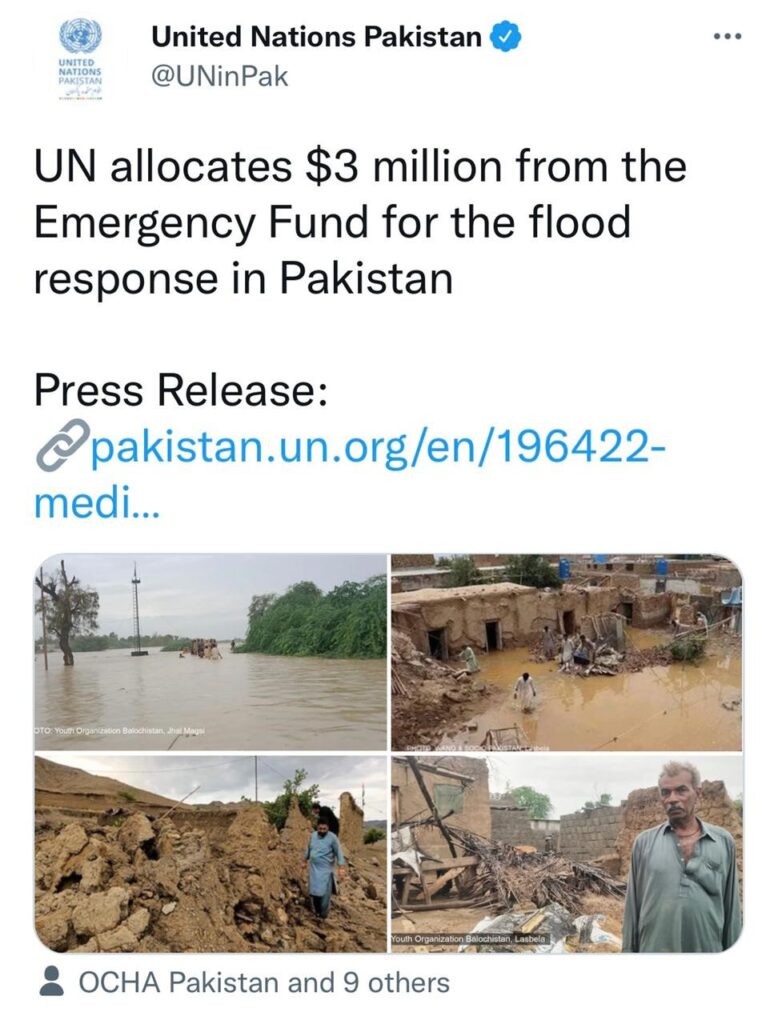 EU grants €1.8 million
According to Riina Kionka, the EU's ambassador to Pakistan, the EU has announced €1.8 million in support for Pakistan. The statement claimed that the aid money would help those in need in some of the hardest-hit districts in the provinces of Sindh, Balochistan, Punjab, and Khyber Pakhtunkhwa.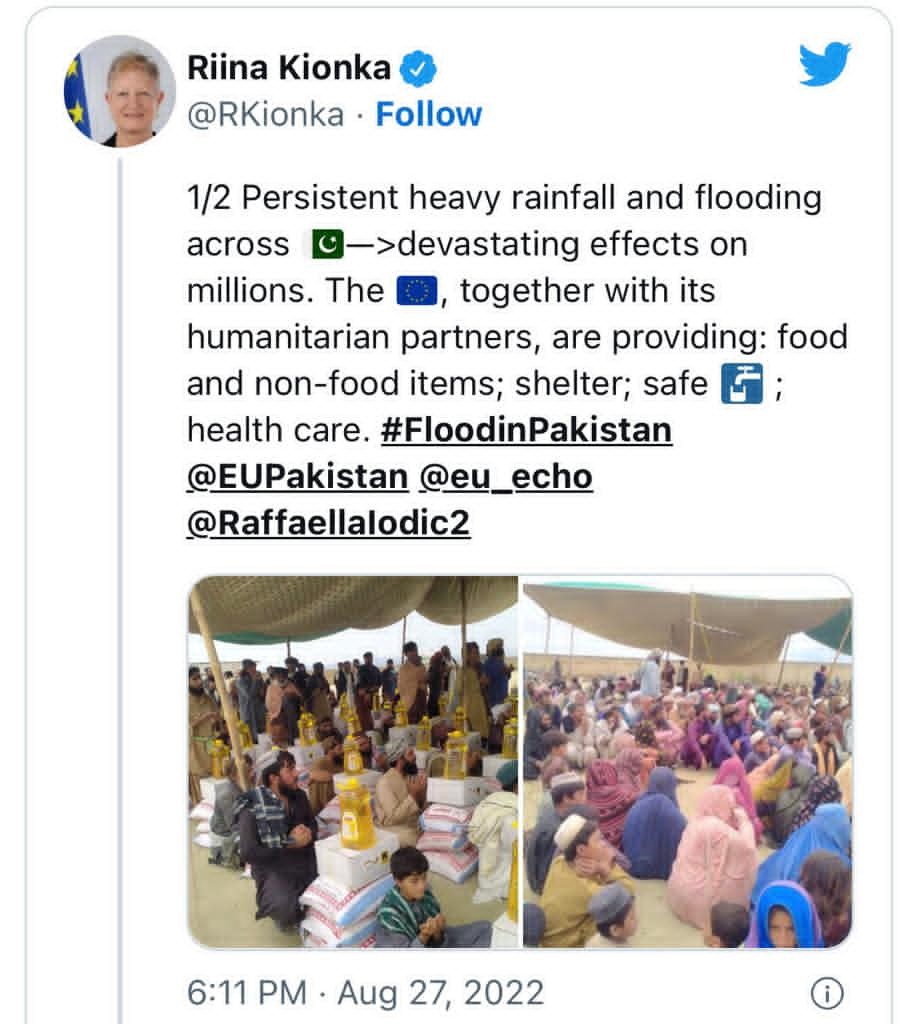 This €1.8 million aid is in addition to the €350,000 previously designated for people who lost their houses and urgently require support.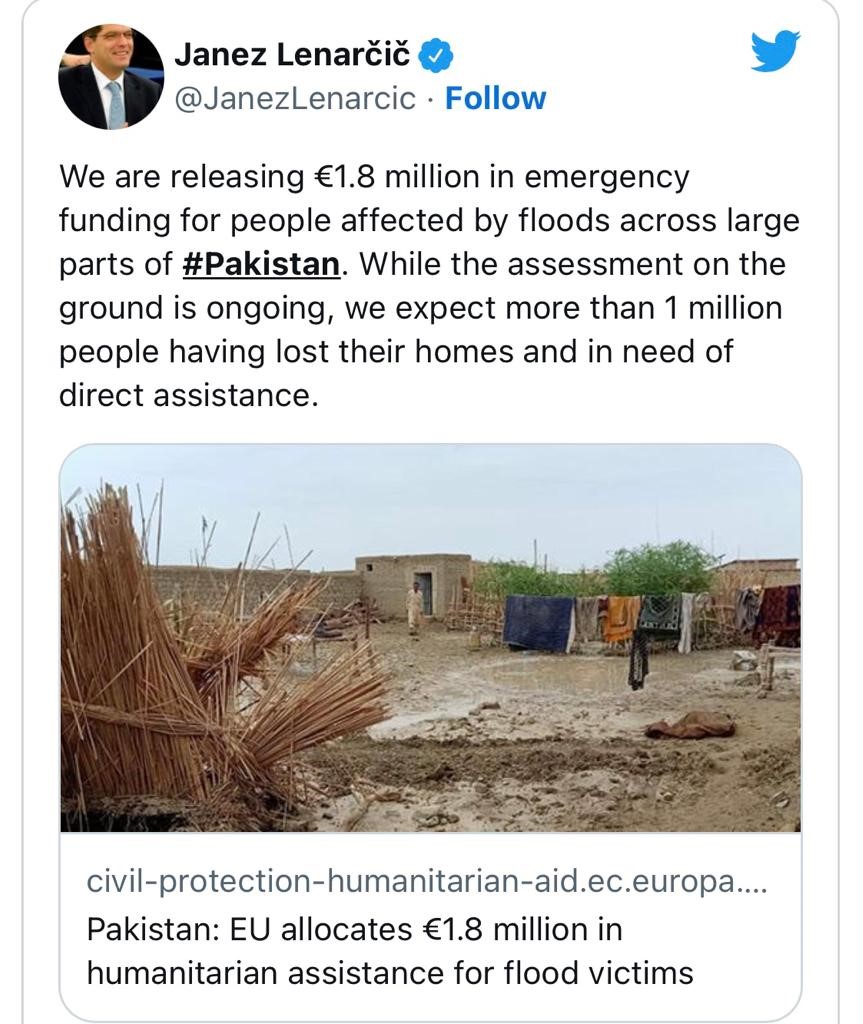 Azerbaijan sends support
President Ilham Aliyev of Azerbaijan has ordered his administration to send Pakistan $2 million in aid to help the country deal with catastrophic flooding.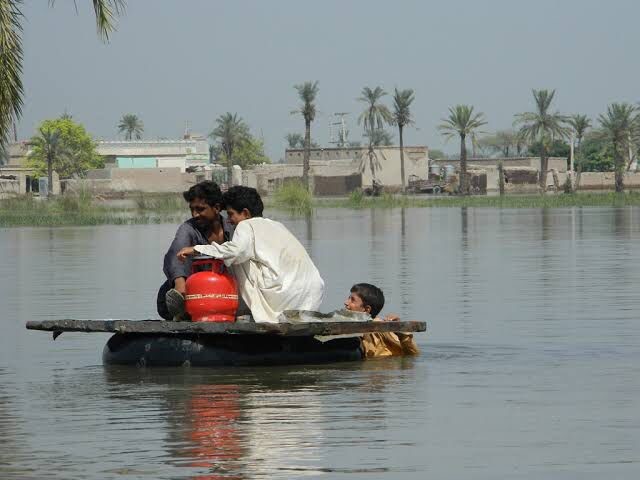 US sends $1 million in aid
The United States has announced an additional $1 million grant to assist Pakistan in dealing with floods that have severely damaged the country's infrastructure and claimed many lives. The United States announced $1 million to increase resilience against natural catastrophes in addition to $100,000 in urgent help.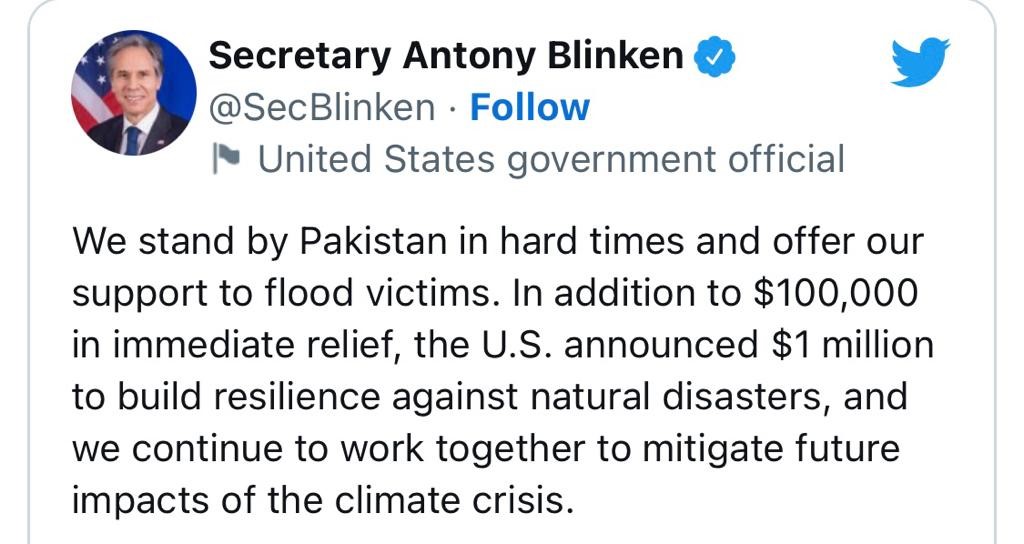 Turkey supplies humanitarian aid
According to the Turkish government, two planeloads of supplies for the flood victims were delivered on Turkish president Erdogan's orders.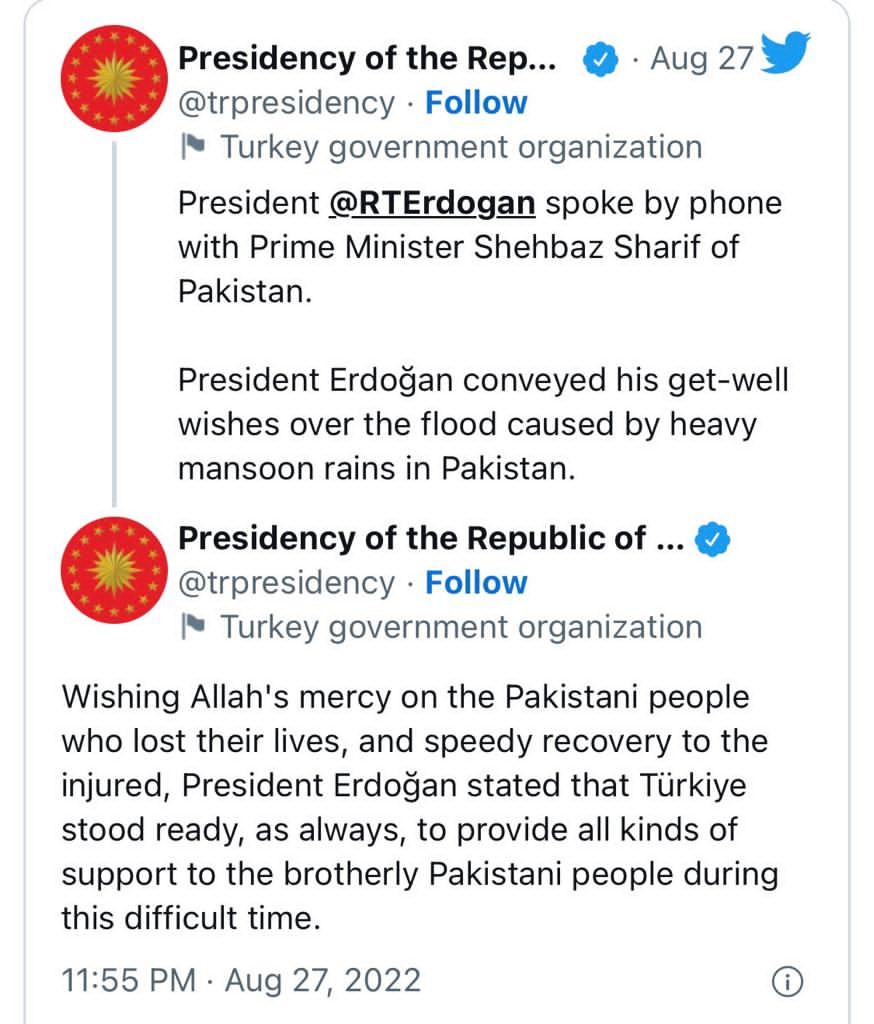 China sends 25,000 tents and $300,000 in cash
China has stated that it will send a shipment of urgently needed humanitarian aid to Pakistan, comprising 25,000 tents and other relief items as well as $300,000 in cash from the Chinese Red Cross Society. Before this, China supplied 50,000 blankets, 50,000 pieces of waterproof canvas, and 4,000 tents, all of which have been distributed to those in need. To the PM's Flood Relief Fund, the All-Pakistan Chinese Enterprises' Association (APCEA) has given Rs15 million.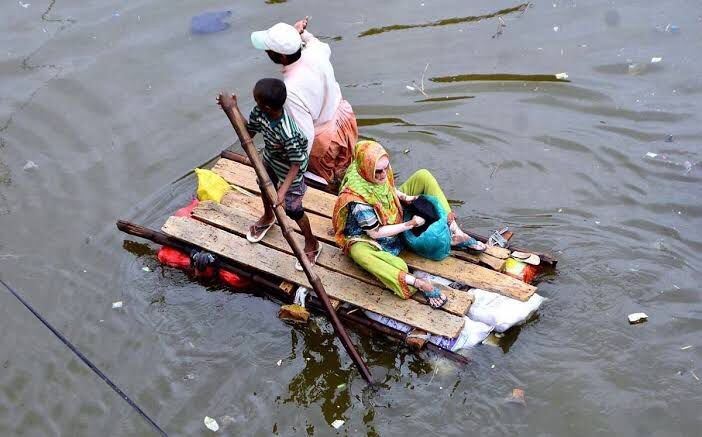 Qatar offers support
The Disaster Response Fund of the Qatar Red Crescent Society (QRCS) has been awarded $100,000 (QR 365,000) to help flood victims, lessen the effects of the disaster, and meet their basic requirements.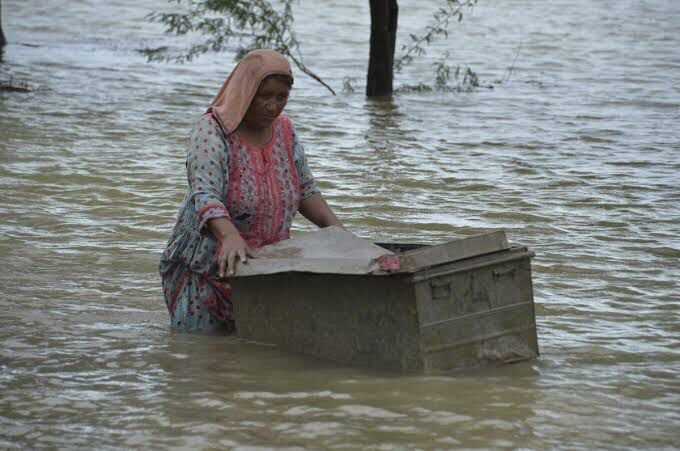 Canada provides support
Canadian Prime Minister Justin Trudeau tweeted that Pakistanis were in his thoughts as he pledged support from the United Nations Central Emergency Response Fund (UNCERF) and Red Cross Canada.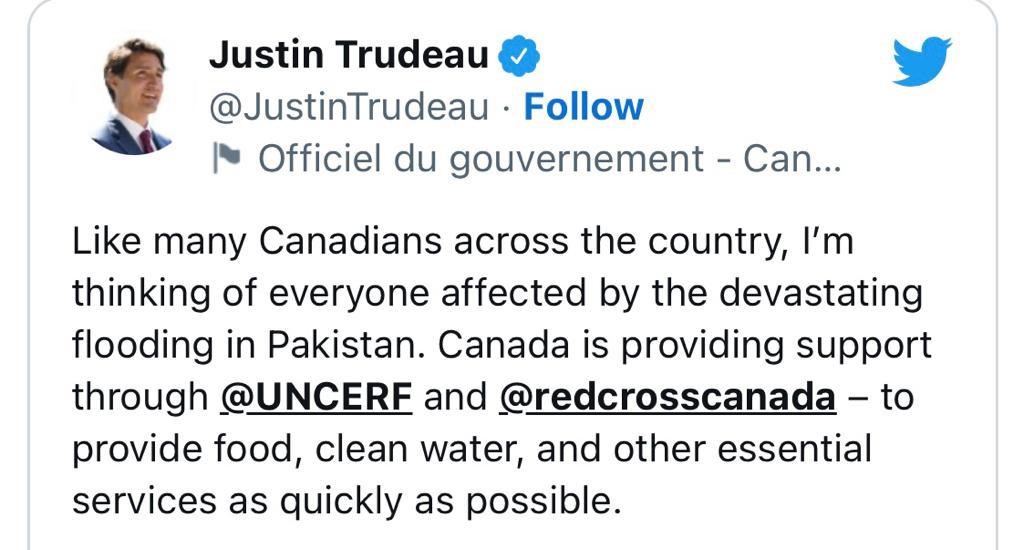 France offers support
Emmanuel Macron, the president of France, also expressed support and stated that his nation stands ready to help.