A Dubai-based Filipino artist paints drawings and portraits on the city's beaches with a rake and sand as his medium. Nathaniel Alapide goes to a beach in Dubai early in the morning to wait for the proper low tide to begin outlining his next masterpiece on the flat and damp sand surface.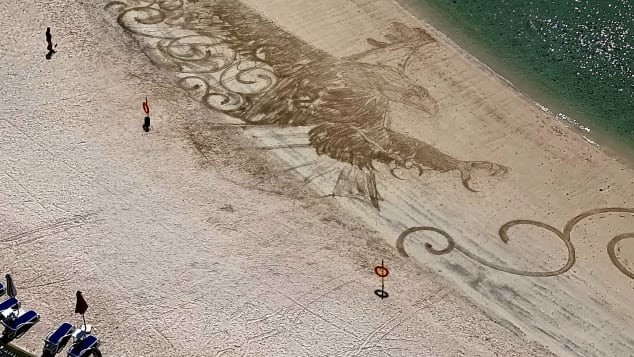 "I would create something for like three or four hours and then when the water starts going up, it erases it, or it takes it away as well. I like the ephemeral nature to it. It reminds you a lot about life," said Nathaniel. The 44-year-old artist, who was previously an aquarist, has converted his hobby of producing sand art into a full-time job by accepting art contracts from hotels.
"It is a very fulfilling feeling, it makes you feel connected to your neighbourhood, to people as well. So as long as I'm here, I'll keep making sand art," Alapide continued.
Alapide drawings are typically 20 metres (66 feet) square. "Sometimes I'll make a piece that will take an hour," he explained. "Or sometimes I work every day for hours to create." When he inserts a written message, the pieces might be more than 100 metres long.
Alapide's sand painting career began in 2014, when he drew a tree in memory to his late grandmother into an area of sand on Umm Suqeim Beach, under the shadow of the famed wave-shaped Jumeirah Beach Hotel.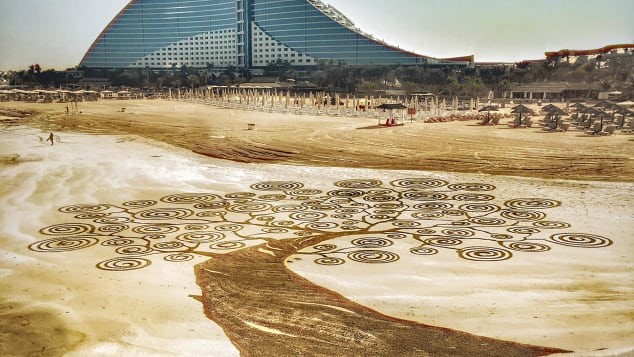 The scale of the drawing attracted the hotel, which offered him his first full-time position as a sand artist in 2015. Since then, he has painted the sands of the UAE with around 1,900 designs. He's been commissioned by major brands such as Burberry and Adidas, and he created a piece for National Geographic's "The UAE from Above" series.
The UAE government even turned Alapide's art into a public service message to inform the public of Covid limitations, with a large slogan saying "#STAY HOME" visible from the sky.
Alapide broke the world record for the largest sand image in 2022. The artwork, which measured more than 23,000 square metres (250,000 square feet) and showed the rulers of the United Arab Emirates, was commissioned by Abu Dhabi Aviation Club (UAE). It took 30 days to complete and required 12,000 tonnes of sand in four different colours obtained from the UAE desert. Alapide believes the transient nature of his work reminds him that everything is in flux, especially in a metropolis like Dubai.