In the modern era, jewelry can seem essential when it comes to enhancing ones demeanour. With everyone wanting to illustrate their personality by this means, UK-based jewelry brand 'Moushe' is specifically cultivated for those who want to enhance who they are through statements or subtle pieces. With a wide array of selections to choose from,  the globally renowned brand has taken the world by storm through its unique and intricate products, receiving credit in several esteemed publications, such as Vogue Arabia and The Glossary Magazine. And the best news is… Moushe is now available in Pakistan! The brand that allows a consumer to speak volumes through accessories without saying a word has finally arrived in the country and we are already awe-struck with all the trinkets. The expressive and playful jewelry designs are created beautifully with meaning attached to them much like other contemporary works of art. What distinguishes Moushe from others is how it follows 5 engraved pillars that signify something beyond the jewel itself:
Moushe prides itself on catering to the individual's needs. It's not just about one's character shining through, beyond that, it's a celebration of who you are through pieces that are exquisite and fun all at the same time. Individuality is portrayed in each of Moushe's products. In this way, it allows for a person to express themselves in the best way they seem fit. To celebrate the individual with all their quirks and eccentricities the Moushe silhouette is made to garner the attention of many. Wearing Moushe jewelry is like wearing confidence as your best accessory.
Arrange, rearrange, mix it up, tear it down, stack along. Moushe is a sandbox of style and accessorizing, encouraging creativity and personalization. Playfulness is one of the central features of these jewels as each piece is distinct with a pop of color and the imaginative range of the products adds convenience through its interchangeability. By playing with unconventional designs, Moushe is continuously expanding the parameters of modern-day jewelry.
Femininity has also played a key role in the invention of Moushe's jewelry pieces as they are all created as an embodiment of the modern woman. Moushe celebrates women in every way, stands for equality, and embraces diversity in all forms. The brand empowers women to hold their own and take pride in the skin they are in. The modern woman is anything she wants to be from bold and fearless, to quiet and astute. Moushe keeps all this in mind and makes pieces that enhance ones feminine side.
The finer things in life can always be admired everywhere you go. That's why Moushe pieces always stand out in a crowd as something to be adorned. The pieces are tasteful thus, appreciated by a wide variety of people. Moushe presents itself as immaculate but not unreachable. Harmony and acceptance are at the heart of the brand hence, giving an approachable path into luxury.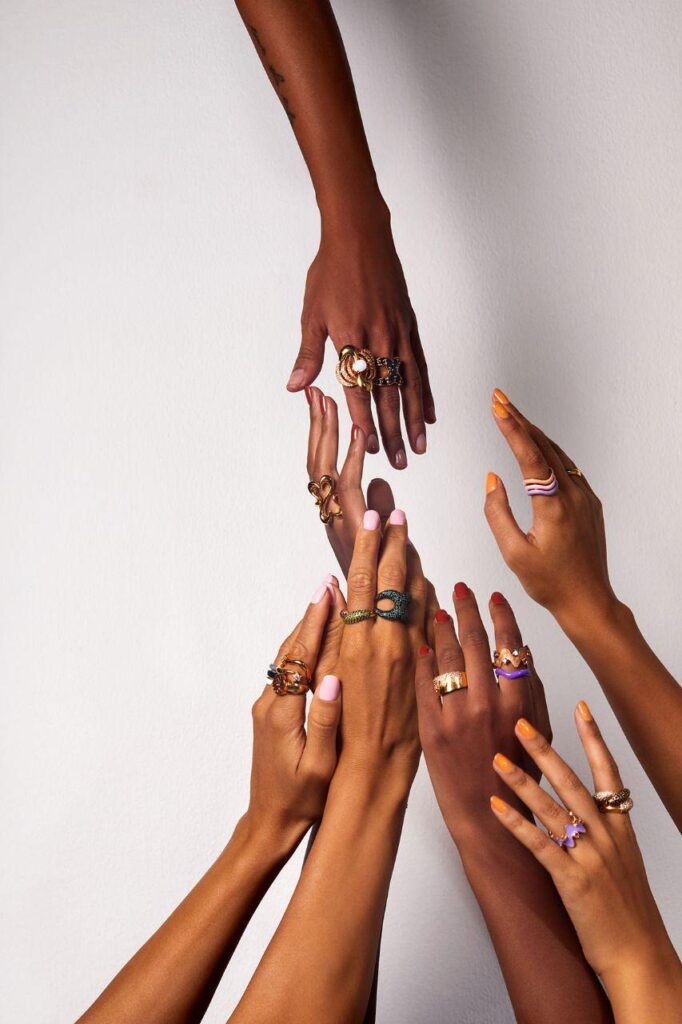 Of course as a modern brand that is socially conscious, Mindfulness is a virtue that Moushe lives by. Diversity, equality, sustainability and an element of 'wokeness' is what the brand functions on. Each piece caters to a wide audience using the knowledge that it will be worn by a completely distinct person with completely a unique set of interests. The planet, conservation, humanitarian, topics, empowerment are boundaries within which our brand flourishes.
Moushe has designed up to 5 unique collections including, Celestial Dreams, Wheel of Fortune, Sserpentine, Moushe Love and Bee My Honey, all of them completely different from the rest. Now that the jewelry brand with outstanding aesthetics has landed in Pakistan, we cannot wait to find the perfect pieces to match our personality!
Moushe's sterling silver collection is now available in Pakistan. If you want to know more about Moushe click the link below:
https://www.moushedesigns.com/
Or head over to the Moushe Instagram page: @moushe_designs or search the hashtag #BeYouInEveryWay