Attention all fashion enthusiasts! The highly anticipated Great Summer Sale is now in full swing, both in-stores and online, offering an exquisite selection of products at discounts of up to 70% off. With over 4000 items to choose from across various categories, this is an opportunity you simply can't afford to miss.
Among the many captivating offerings, the Vintage Garden Ladies Unstitched Collection stands out as a true embodiment of timeless elegance.
Let's dive into the stunning designs awaiting your perusal: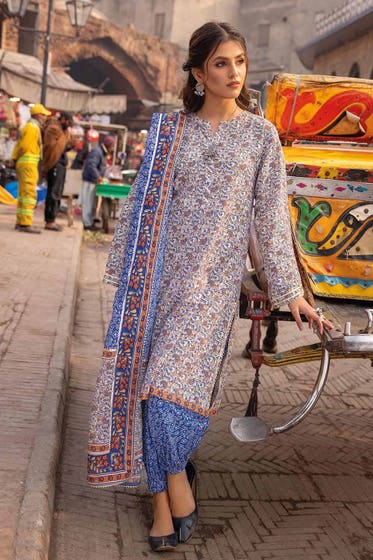 Prepare to be enchanted by the floral print adorning this mesmerizing suit. The delicate combination of pastel hues creates a harmonious symphony, exuding grace and sophistication. The print on the shirt enhances the look and elevates it to a new level of elegance. Style it with nude pumps and dainty accessories for a sophisticated daytime look.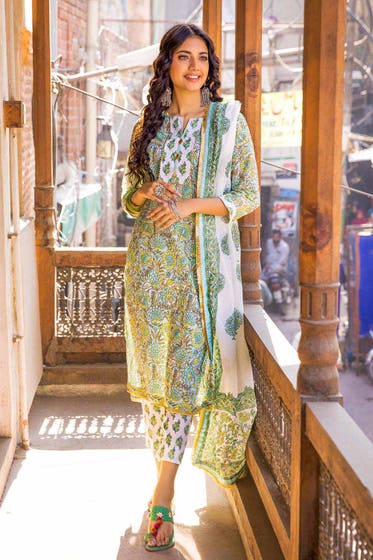 Radiating a sense of refined charm, this suit boasts a stunning blend of colors and intricate patterns. The shirt's print is floral and feminine adding an extra touch of delicacy. Embrace its allure at family gatherings or special occasions by pairing it with statement jewellery and heels that complement the color scheme.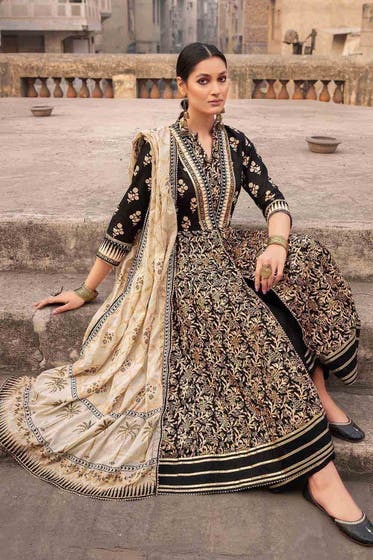 Prepare to dazzle with this regal creation that effortlessly combines opulence and contemporary aesthetics. The gold and lacquer print adds a touch of luxurious flair to the suit, perfect for a grand celebration or an evening soirée. Complete the look with golden accessories and a chic clutch to make a lasting impression.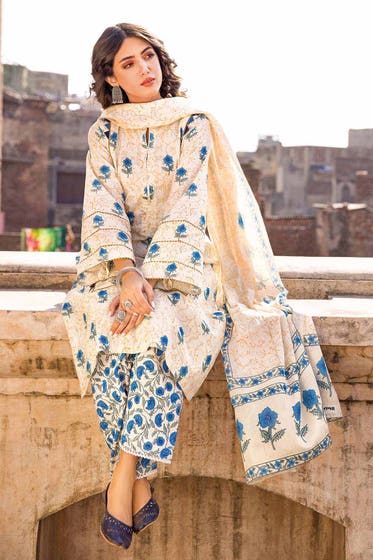 Infused with an air of sophistication, this suit showcases a delightful interplay of colors and patterns. The shirt features a uniform print on a muted base exuding an aura of timeless beauty. The bottoms feature a busier print adding to the overall look. Style it with strappy sandals and a stylish handbag for a versatile ensemble that effortlessly transitions from day to night.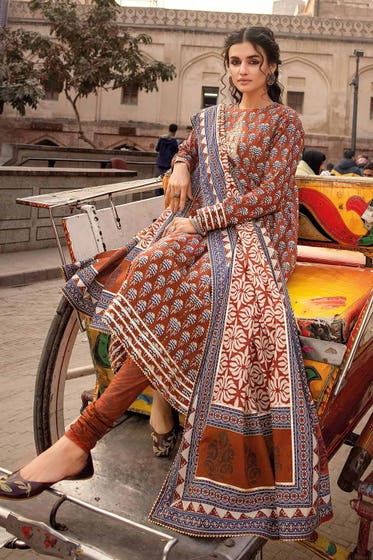 Prepare to make a bold fashion statement with this resplendent suit that boasts a foil print, instantly capturing attention. The fusion of vibrant hues creates a captivating tapestry, perfect for a glamorous occasion or an evening out. Complement the suit with metallic accessories and a sleek updo to truly shine.
What sets the Vintage Garden Ladies Unstitched Collection apart is not just its impeccable design and color schemes but also the utilization of high-quality fabric. Crafted with the utmost care, these suits are made to last, ensuring both comfort and durability. Moreover, the colors used in this collection are fade-resistant, allowing you to wear your suit as much as you want without having to shed a tear.
Don't miss out on this opportunity to grab these stunning suits at discounted prices during The Great Summer Sale. Visit the nearest Ideas store or shop online at www.gulahmedshop.com. With delivery charges of only PKR 99 and a 30-day exchange policy, it's the perfect time to upgrade your wardrobe.