It's likely that you have an engaged audience if you've been developing your internet presence for a long enough period of time. Your suggestions are taken seriously, and people like sharing your content with others. You are now being questioned by brands about sponsored social media posts and other partnerships. A media kit for influencers is one of the finest methods to respond to their inquiries.
What is an influencer media kit?
An influencer media kit, in a nutshell, is a packet or page of material you can send to potential client businesses and media outlets. This is the influencer equivalent of a resume, CV, or portfolio, sometimes known as a press kit. In real life, this translates to a virtual handshake that you use to introduce yourself. When properly put together, this document will demonstrate your abilities as an influencer and provide instances of your work. They assist brands in finding the ideal influencers and services to meet their requirements.
Short biography with a picture
In many job interviews, the first question is "Tell me about yourself." In essence, your personality, creativity, and experience serve as your product when you are an influencer. Because of this, your brief biography should be imaginative. In the scenario that you are a fashion influencer, think about describing what got you interested in the topic. With this response, you should ideally be able to establish a connection with potential customers.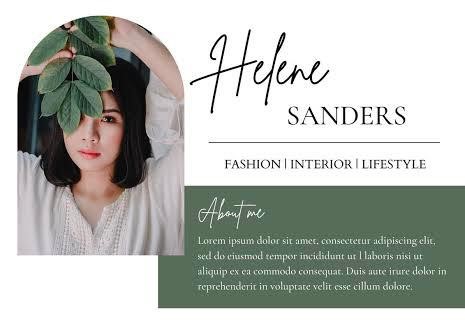 In the same way, your profile picture needs to be both professional and inviting. In some circumstances, headshots are acceptable, but not in others. Make sure you have a nice smile on your face and are acting casually when choosing a headshot.
Your active social media profiles
Naturally, the social media platform where you provide sponsored content is the most crucial to highlight. If you have a great Instagram following, be sure to mention that this is what you do best. Please also include your Instagram handle.
Don't stop there, though. Even though you don't anticipate getting employed on other social media platforms, brands can engage with you by looking at them. Do you generally enjoy having a good time? This online persona usually spreads to other social media sites. Using your influence in a certain industry? Even if it isn't being used for your influencer company, your LinkedIn profile can help build your credibility.
Follower counts
In contrast to some other analytics, follower counts are simple to locate and include in your influencer media kit reports. This is advantageous because one of the most crucial pieces of information about any influencer is their follower count. Many companies will pay you according to the size of the social media platform where you do your work, and they may have a particular audience in mind for a certain campaign. The majority of platforms will display your following count on your profile or home page; all you need to do is update it sometimes. The number of unique visits you receive each month can be found in your account dashboard and used with blogs.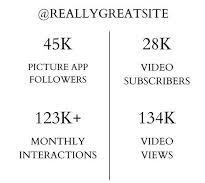 Engagement rates
Audience engagement rates are frequently the unspoken truth in the world of influencer marketing. Even though having a lot of eyes is great, marketing goals aren't as concerned if people don't engage with your contact. Another indicator that is used to assess your influence and determine your rates is engagement. Brands can determine your suitability by looking at your engagement rates. Finally, avoid buying involvement only to increase those figures. Along with false Instagram followers, many of us have developed the ability to see this, thus trying to do this will backfire severely.

Past collaborations
As a content creator, think of your past partnerships with brands as the experience section on your résumé. Your influencer media kit should include prior partnerships. It may be impossible to discuss all of a seasoned social media influencer's partnerships in a one-page document. If this is the case, choose between your greatest work, your favourites, and your best outcomes. The goal is to present yourself in the best possible light.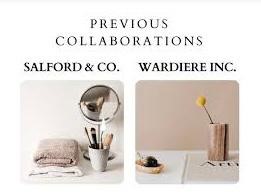 Services you offer
Keep brands from speculating about your level of willingness. Inform them! Brands often have a clear understanding of the services they need when searching for new influencers to work with. Some companies even harvest the data from the influencer press kit and store it for later use. They might search the database for this information as the need arises for an influencer who provides particular services. You have increased your "visibility" in the system by providing it. Include both your best skills and what you are willing to do.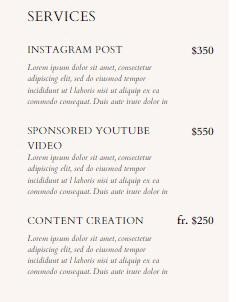 Price list
Influencers who are just starting out may not have "set" rates, while more seasoned ones frequently do. By including a price list in your influencer media kit, you make it clear to businesses what you expect in terms of collaboration and what kind of material you can offer that will best serve their target audience. You might bargain with brands for services depending on your business plan. Additionally, you'll let companies know whether your services are reasonably priced and what prospective choices for partnerships are available from your list of services.
Contact Information
Don't leave businesses "guessing" how to get in touch with you. An influencer media kit's main objective is to promote your services, and the main focus of this campaign is generating sales leads. It's likely that a brand won't bother if they have to find you. They'll simply go on to the next person who has mentioned this. Give your preferred mode of contact when providing your contact information. Depending on your comfort level, you might also mention alternate approaches.